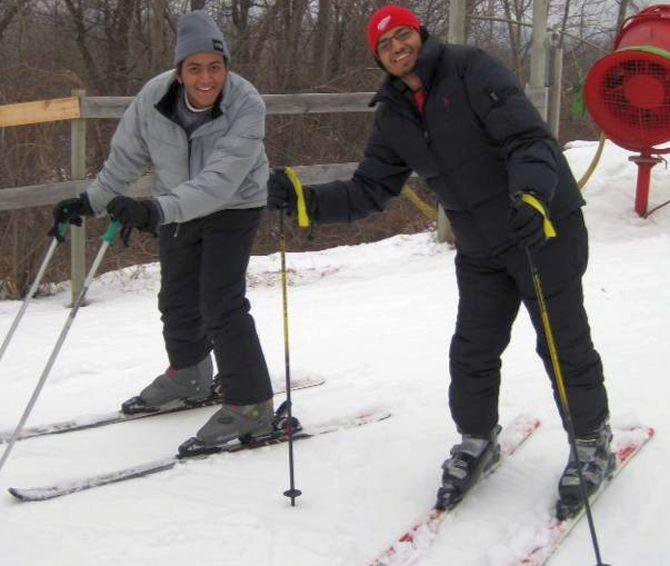 Two brothers with United States citizenship and their aunt, who had gone to celebrate the birthday of Khushbu Bansali at the '1 Above' pub, perished in the deadly blaze, which also claimed Khushbu's life.
The deceased Dhairya Lalani, 26, and Vishwa Lalani, 23, and their aunt Pramila Kenia had gone to the pub on Thursday night to celebrate Khushbu's 29th birthday, a close friend of the Lalani family said.
The Lalani brothers resided in suburban Matunga. They were killed in the fire when they went to rescue their aunt, said 70-year-old Vinod Sethia, their family friend.
Dhairya who works in US had come in Mumbai a week ago, while Vishwa was staying with his parents since a year and managed his father's catering business, he said.
He said Kenia ran towards the washroom to save herself.
"Dhairya and Vishwa both noticed that their aunt did not come out of the pub and one of them again went inside to see her. When the two did not return, the other brother also sneaked inside the pub, but all were killed in the fire," Sethia said.
The last rites of Dhairya and Vishwa were performed at a crematorium in central Mumbai, he said adding Kenia's funeral will be held on Saturday as her son has left from the US to reach in Mumbai.
Kenia's daughter and daughter-in-law were in Rajasthan and they are also returning to Mumbai, he added.
The fire that started at a rooftop pub during a party spread rapidly through the building, killing 14 people, including Khushbu and many of her friends, officials said.
The fire, which also injured 21 people, started after 12.30 am in the '1 Above' pub on the terrace, and spread to the Mojo pub on the third floor one level below, said an official of the Mumbai civic body, Brihanmumbai Municipal Corporation.