'Anyone who is passionate about cricket, the allure of such a job is undeniable'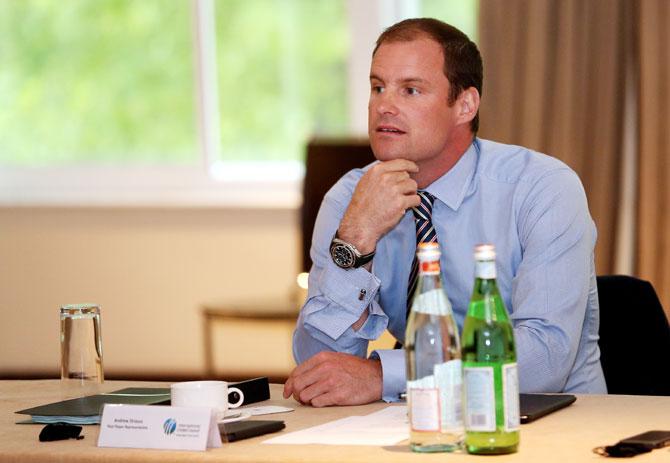 Andrew Strauss at the ICC Cricket Committee meeting at Lord's. Photograph: Andrew Redington/Getty Images
Former Ashes-winning captain Andrew Strauss has expressed his interest in the newly-created director of English cricket role for the England and Wales Cricket Board (ECB).
Led by chief executive Tom Harrison and endorsed by incoming chairman Colin Graves the new leadership position is focused on team performance in the wake of the disappointing performance at the recent World Cup.
"To anyone who is passionate about cricket, the allure of such a job is undeniable," Strauss wrote in the Sunday Times.
"I am certainly interested in any role that might help English cricket move forward."
Two more former England captains Michael Vaughan and Alec Stewart are also being considered for the role as the ECB begins its restructure following the departure of managing director Paul Downton after the terrible World Cup campaign.
Downton was appointed in October 2013 and Strauss questioned whether the state of English cricket had improved during his tenure, although they are still third in the Test rankings.
"It is hard to create any sort of dialogue that English cricket is in a better place today than when Downton started," Strauss, who scored 7037 Test runs including 21 centuries at an average of 40.91, added.
"The ECB seems to be attempting to bring his replacement closer to the team, with more influence over the players and thus more accountability for their performances."
Since topping the ICC Test rankings in 2011 and registering four Ashes victories from five series in 2005, 2009, 2010 and 2013 England have been in steady decline.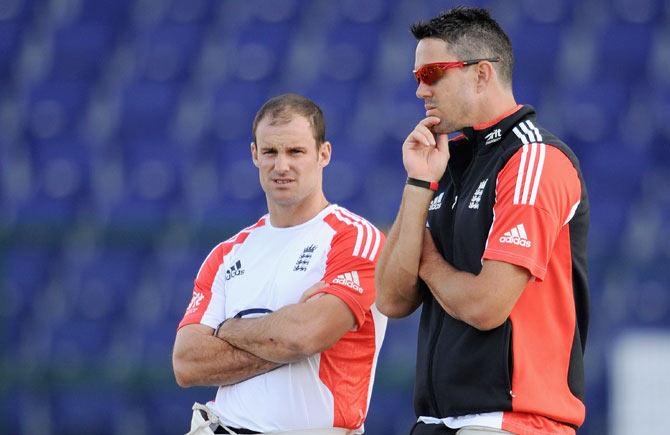 Kevin Pietersen (right) with Andrew Strauss. Photograph: Getty Images
In 2014 they suffered a humiliating Ashes whitewash and much of the ensuing 15 months has been dominated by the fallout following the sacking of Kevin Pietersen and the subsequent release of his controversial autobiography.
Vaughan, captain during England's famous 2005 Ashes triumph, said last week that fundamental changes were required to yield improvement in the state of English cricket.
"I have a vision for the game and will be more than willing to talk to the ECB to see what exactly the role is and how much influence it will wield over the future structure of our game," he said in the Telegraph.
"The brief has to be wider and more powerful than Paul's (Downton) to have any real impact on England."
They begin the first of a three-match Test series against the West Indies in Antigua on Monday before home test series against New Zealand and Australia.