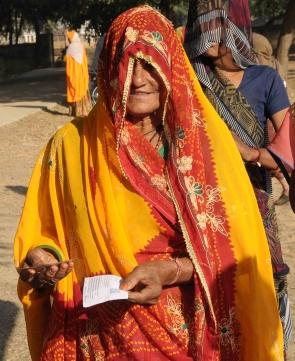 Truth is stranger than fiction, as far as Muslim politics in Rajasthan is concerned. The community which comprises more than 11 per cent of the state's total population, only one leader from the community has became a member of Parliament in the last 62 years. Shahnawaz Akhtar reports
Rajasthan has had 362 MPs since 1952. Ayyub Khan is the only Muslim leader who has made it to Parliament twice, both times from the Jhunjhunu constituency.
Khan was first elected in 1984 and then again in 1991. "I was awarded the Vir Chakra soon after the 1965 India-Pakistan war so I was given a Congress ticket, and even went on to win the election in 1984," Khan told Rediff. He was also made minister of state in the Rajiv Gandhi cabinet.
But since the last 23 years, no Muslim has been sent to Parliament from Rajasthan. The Congress has given tickets to 10 Muslims since 1952, but the Bharatiya Janata Party is yet to give its lotus symbol to any Muslim, since it was formed here 34 years ago.
While on eight other seats, Muslim candidates were repeated twice by the Congress on the same seat, but they were unable to win. Significantly, on the 11 seats, Muslims are decisive factors.
In the Barmer constituency, which is in the news because of the expelled BJP stalwart Jaswant Singh who is contesting from here, has 17.72 per cent Muslim population. However, no party has ever fielded a Muslim candidate from here.
In Nagaur, Alwar and Bharatpur constituencies Muslims comprise 12.84, 12.80 and 12.59 per cent respectively. While in Kota, Sikar and Ajmer they share 11.71, 11.44 and 11.20 per cent population respectively.
In Jodhpur, Churu, Sawai-Madhopur and Jhunjhunu Muslims comprise 10.74, 10. 93, 10.74 and 10.33 per cent of the total population respectively.
When asked why no other Muslim has won in Rajasthan, Congress Rajya Sabha MP from Rajasthan, Ashk Ali Tak says, "Other than the Congress, no other party used to give tickets to Muslims and the community also do not vote for their own candidates. Why and how will others vote for you?" he questions.
"When a Muslim contests, votes get polarised in Rajasthan and the candidate loses. So the Congress finds another way out and sends Muslim to the Rajya Sabha." he said.
"At least in Rajasthan, the Congress has done justice to the community either by giving tickets or sending a Muslim to the Rajya Sabha; neither the BJP nor the Third Front has done so," added Tak.