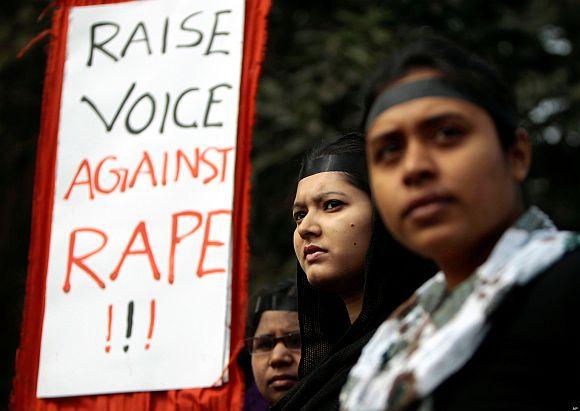 The devastated mother of the December 16 gang-rape victim on Friday made fervent pleas for justice for her daughter before a special court trying four men accused in the case. The lawyer for one of the accused did not cross-examine her saying she is already in deep pain.
The mother of the 23-year-old paramedical student, who was gang-raped and assaulted in a moving bus, deposed before the court of Additional Sessions Judge Yogesh Khanna. After her cross-examination was over, she urged the judge with folded hands to do justice to her daughter.
"Judge sahab, meri beti ko insaaf dilaiye (secure justice to my daughter)," she prayed to the court. During the proceedings, advocate V K Anand, appearing for accused Mukesh, did not cross-examine her saying, "she is already in deep pain and asking her a question related to her daughter may make her more depressed."
"I do not want to ask any question on behalf of my client. I can understand the pain of a mother...," Anand said. When the counsel for other three accused started to cross examine the witness, the judge requested them to be "polite" with the woman and ask relevant questions.
"Don't ask questions which may hurt her sentiments," the judge said. In her deposition, the victim's mother said that on December 16, "my daughter left the house at 4 pm informing me that she had to make some purchases and would also watch a movie. When she left the house she was carrying her mobile phone."
She said when the victim did not return home till 9 pm, she made calls on her mobile phone but it was switched off and she and her husband were very worried.
"At about 11-11:15 pm, I received a call from the police control room informing me that some incident had happened with my daughter and I was asked to come to SafdarjungHospital immediately. I along with my husband rushed to the hospital and there I found my daughter, admitted in emergency. I could not talk to her as she was being taken for operation. We stayed at the hospital during her treatment."