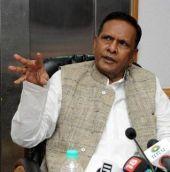 With the exit of Dravida Munnetra Kazhagam from United Progressive Alliance, the Bharatiya Janata Party on Wednesday sought to drive a wedge between Congress and Samajwadi Party demanding immediate removal of Union Minister Beni Prasad Verma for his remarks against Mulayam Singh Yadav.
Leader of Opposition in the Lok Sabha Sushma Swaraj batted for Mulayam, saying Verma has tarnished the image of the SP chief who is "a respected leader of the House. He should either prove his charges or apologise."
SP members, who were in the well in the morning, raised slogans from the aisle when Swaraj started to speak during zero hour. DMK, AIADMK and CPI members were also in the well raising the issue of atrocities against Sri Lankan Tamils.
The controversy involving a supporting party has come at a time when the government is facing a political challenge in the wake of UPA constituent DMK pulling out of the alliance on the Sri Lankan Tamils issue.
"Instead of tendering an apology, he (Verma) has repeated his allegations and added some more baseless charges today. This is a matter of privilege of the House and it should be sent to the privileges committee. The government should dismiss Verma immediately," Swaraj said amid thumping of desks by members of the SP, BJP and other parties.
She said that after making such "disparaging remarks", Verma has "no right to continue in office".
Swaraj said BJP and SP may have political differences, but "this is a matter of privilege of the House."
Janata Dal-United chief Sharad Yadav and CPI-M leader Basudeb Acharia also wanted to speak on the issue but were disallowed by Deputy Speaker Kariya Munda who immediately adjourned the House for half an hour.
During the adjournment, Congress president Sonia Gandhi spoke to the SP chief. Union Home Minister Sushilkumar Shinde was later seen sitting with Mulayam, apparently discussing the matter.
After two adjournments during question hour, Lok Sabha was finally adjourned for the day.