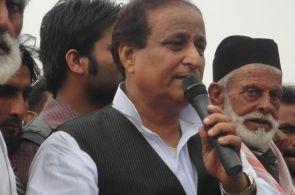 Uttar Pradesh Urban Development Minister Azam Khan, who shot into the spotlight for making a lot of hue and cry over his frisking by US security officials at Boston airport last week, is now off to South Africa,.
Unlike US, where he was a part of a 12-member delegation led by Chief Minister Akhilesh Yadav, Khan is accompanied by UP Assembly Speaker Mata Prasad Pandey and multi-portfolio minister Shivpal Yadav, who is also Samajwadi Party chief Mulayam Singh Yadav's younger brother and the most powerful of the ministers in Akhilesh cabinet.
Among others in the entourage is a very influential IAS officer Deepak Singhal, who is currently principal secretary of the state's irrigation department, also under Shivpal Yadav.
After a sour experience on the US soil which provoked both Azam and Akhilesh to cancel their invitation for a lecture on the success story of Kumbh Mela at the HarvardBusinessSchool, Azam Khan has decided to take some time off to attend the wedding of a business tycoon friend's son in South Africa.
A couple of other politicians have also joined them on the junket -- funded entirely by the tycoon, who is understood to have chartered a plane for carrying all his guests from India.
He owns Sahara Computers, an independent business house based in South Africa.
Those accompanying Azam Khan are keeping their fingers crossed -- just in case the fiery minister lands up in another fracas in South Africa, where the heavyweight politician plans to spend four days.