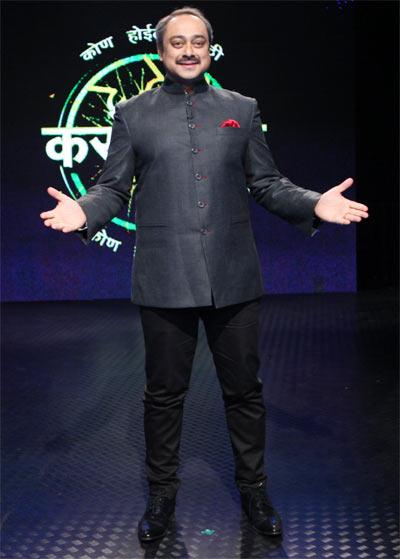 Actor Sachin Khedekar returns to the small screen after more than a decade to host the Marathi edition of the popular television show Kaun Banega Crorepati.


The show is titled Kon Hoeel Marathi Crorepati. It will go on air from May 6 at 9pm on ETV Marathi.


A veteran Marathi actor, Khedekar also acted in Hindi films such as Astitva, Singham, and played the critically acclaimed role of Subhas Chandra Bose in Shyam Benegal's Bose – The Forgotten Hero.


Here, Sachin Khedekar talks about how he will handle the show and who is the one contestant he would like to see in the hot seat.


What was your reaction when you got the offer to host the Marathi KBC?


I was shocked. I kept getting offers for TV reality shows, but I wouldn't do them. I would tell my family and friends 'Why can't somebody do KBC, and I will host it'.


When Amit Phalke (non-fiction head of the channel) told me he was offering me a reality show, I told him to forget it; I would do only KBC.


He said 'Let me shake your hand'. It was like a dream come true. Amit said a marketing survey done by the channel showed I was rated high.


KBC came to me, that itself gives me a big high (smiles).


Do you think it's a huge responsibility to get into the shoes of Amitabh Bachchan?


It's indeed a big pair of shoes to fill. I am a big fan of Mr Bachchan. KBC in India is synonymous with him and if I manage to do even 10 per cent of what he does, I will be happy.


While rehearsing for the show, Bachchanji's voice was resonating within me. I will consciously emulate the format of the host.


The international format has certain rules for the host but in the Indian version it's made friendly and a human story is attached to it. It is the responsibility of the host to keep the dignity of the game intact and still be friendly with contestants.


How did your family react?


My mother is hugely shocked and happy because she has been religiously watching KBC for the last six seasons. The reason is, at the end of every episode in KBC, Bachchanji says aap apna kayal rakay. That is the kind of effect he has on viewers.


Have you followed all the seasons of KBC?


My younger son and my mother are big KBC fans. When I am home, at nine it's always KBC when it's on air. As a parent I feel that this is what my kid should watch.


How are you preparing for the show?


I will start shooting from Monday. As of now I have just done lots of mock rehearsals. I am really working hard and trying to get my life in order. I am nervous because of the responsibility and the fear of not doing it right.


Have you spoken to Mr Bachchan about the show?


I haven't, but I am hoping to meet him soon.


How do you think Marathi audiences will receive this show?


For the Marathi audience, this is the opportunity to win by the sheer strength of knowledge. It's not money or luck but knowledge here.


Marathi audiences are ready for innovation and accept new things. That is why a show like this can be done in Marathi.


The characters you have played in films are mostly identified with the common man. Will this help you connect with the audience on this show?


As host of the show, I will try to encourage people to stay close to their roots and culture irrespective of where they live and work. With this show, I want to offer fellow Maharashtrians a chance to win Rs 1 crore on the strength of their local and global knowledge.


It's always the dark horse who wins in films. And I have played them all my life. It's like Harrison Ford-- a guy has a middle class face but huge ambitions (smiles).


Who is that one celebrity that you wish to see play Marathi KBC?
Sachin Tendulkar.