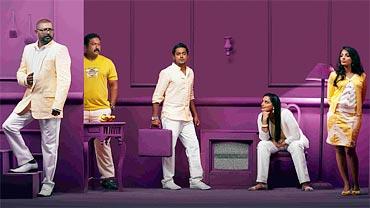 Salt N' Pepper directed by Aashiq Abu is a story on how a dosa is made!

It seems Aashiq, who made his debut with Daddy Cool, has 'food' as a character in his Malayalam film.

"Food, the most primitive form of comfort and a perfect mix of pleasure and necessity, plays an important role in our story. A story that would journey through few days of the lives of people like us who love food," Aashiq said

The movie stars Asif Ali as Manu Raghav, Lal as Kalathil Parambil Kalidasan, Swetha Menon as Maya Krishnan, Manikyam's Mythili as Meenakshi Balachandran and Baburaj as Babu.

Salt N' Pepper is being produced under the banner of Lucsam Creations. The scenarists are Shyam Pushkaran and Dileesh Nair. Shyju Khaled is the cinematographer while Biji Bal is the music director. 
The shooting is currently going on at Thiruvananthapuram.