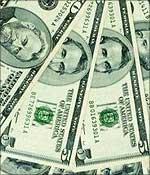 The IMF Board of Governors have approved a general allocation of special drawing rights equivalent to $250 billion to provide liquidity to global economic system by supplementing its member countries' foreign exchange reserves.
Based on its quota, India would receive about $4.78 billion. These funds would be made available on August 28.
At its meeting on August 7, the International Monetary Fund Board of Governors backed the general allocation on July 17, following the commitment made by G20 leaders at their April summit to boost global liquidity.
The equivalent of nearly $100 billion of the general allocation will go to emerging markets and developing countries, of which low-income countries will receive over $18 billion, IMF said in a statement on Friday.
The allocation will provide each participating country with SDRs in amounts equivalent to approximately 74 per cent of its quota, and could increase Fund members' total allocation to an amount equivalent to about $283 billion, from about $33 billion, the IMF said.
Also, the Fourth Amendment to the IMF Articles of Agreement providing for a special one-time allocation of SDRs has now entered into force. The special allocation will be made to IMF members on September 9.
The total of SDRs created under the special allocation would amount to about $33 billion.